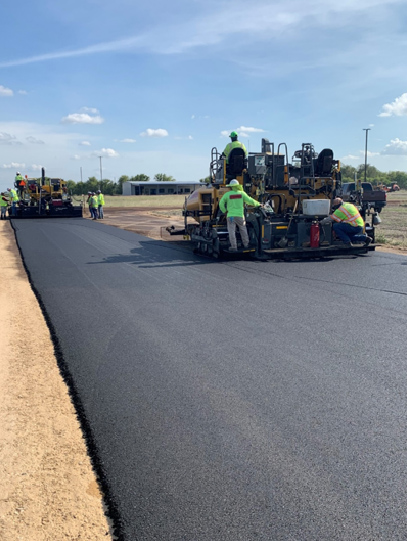 When Developer/Owner Larry Skloss decided to develop a high-speed Karting track in San Antonio, he researched the best paving practices for building his track. While consulting with others in the karting industry, David Hajicek of Houston Karting recommended Hayden Paving for their expertise and experience paving other tracks. Hayden Paving recently paved Houston Karting's track, located in Conroe, TX.
Project Manager Garrett Hudler of Hayden Paving's San Antonio Division Office proposed to Mr. Skloss that the track be paved in echelon to improve the construction of the longitudinal joint in the tracksurface. This same paving technique was used when paving the Houston Karting track. When using the process known as echelon paving (two pavers run staggered in adjacent paving passes), construction of the longitudinal joint is changed so that the compaction of the unconfined edge of the first lane is delayed until the second pass is placed. Once the asphalt from the trailing paver has been placed against the edge of the asphalt from the leading paver, the hot seam and second pass is compacted at the same time leaving an almost undetectable joint.
What was the end result? Go see for yourself. San Antonio Karting is scheduled to open in February of 2021. They are located at 1000 Bolton Road in Marion, Texas. Check them out on Facebook https://www.facebook.com/SanAntonioKartingComplex.